Alejandro Garnacho made the breakthrough for Manchester United against West Ham to book the team's place in the FA Cup quarter-finals.
Fred extended United's lead in the fifth minute of injury time, after Garnacho had done the damage, with the Red Devils winning 3-1.
This was Garnacho's first goal for the first team at Old Trafford, with his three previous strikes coming away from home.
It is a moment he will remember, and one which has generated plenty of well earned praise, with Marcus Rashford hailing him after the game.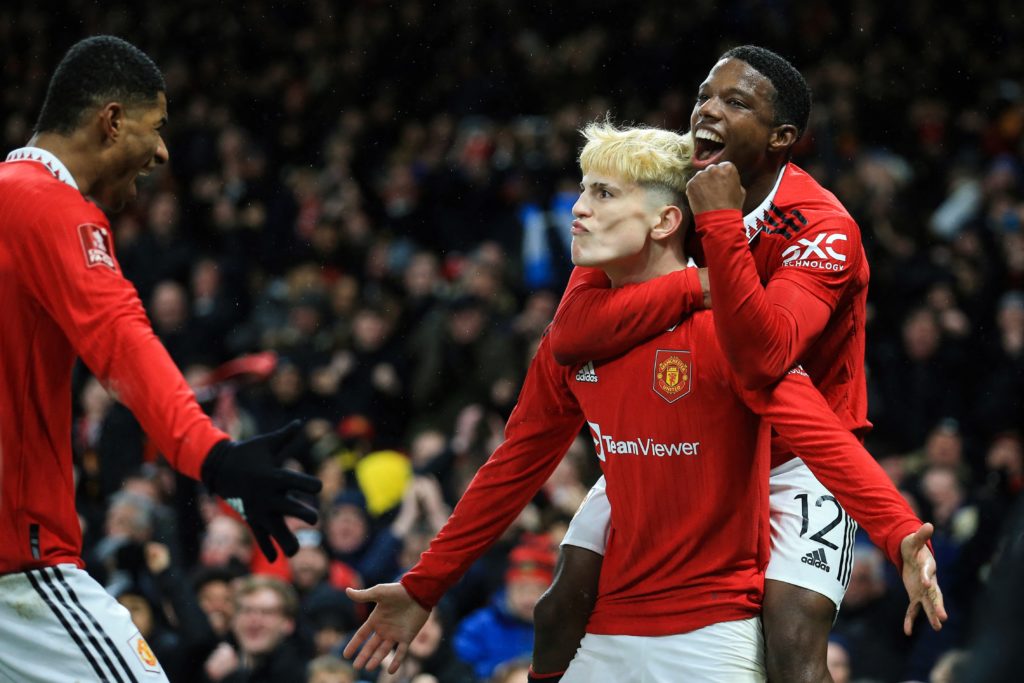 Garnacho is the new role model for United's youngsters
Marcus Rashford has been the role model for Manchester United's academy players for years, ever since his 2016 breakthrough into the first team.
While great he is enjoying his best ever season, it's just as satisfying to see another young star make the step up from the academy in 2023.
A year ago Garnacho was starring at Old Trafford in United's FA Youth Cup winning run. Now he is starring against the likes of Barcelona, contributing to Carabao Cup success, and scoring decisive goals in the FA Cup. It is quite a rise.
It is no wonder then that Garnacho's Instagram page was deluged with responses from Manchester United's youngsters, who now see him as the role model to look up to.
Garnacho is more relatable to them than Rashford, because they have played alongside the Argentine at under-18s or under-21s level. That's so important, giving them hope they can make it too.
Kobbie Mainoo was among those to reach out, along with young right-back Marc Jurado, who described Garnacho's impact as 'barbaric'.
Unused substitute Facundo Pellistri also responded, along with Charlie McNeill, Charlie Savage, Dan Gore, Joe Hugill, Mateo Mejia, Ethan Ennis and Sam Mather.
Garnacho's quick rise to stardom is not easily replicated, and some young players have to take the loan route, and many don't make it at all. But seeing the youngster make that step up, provides inspiration that others can too, whatever path they take.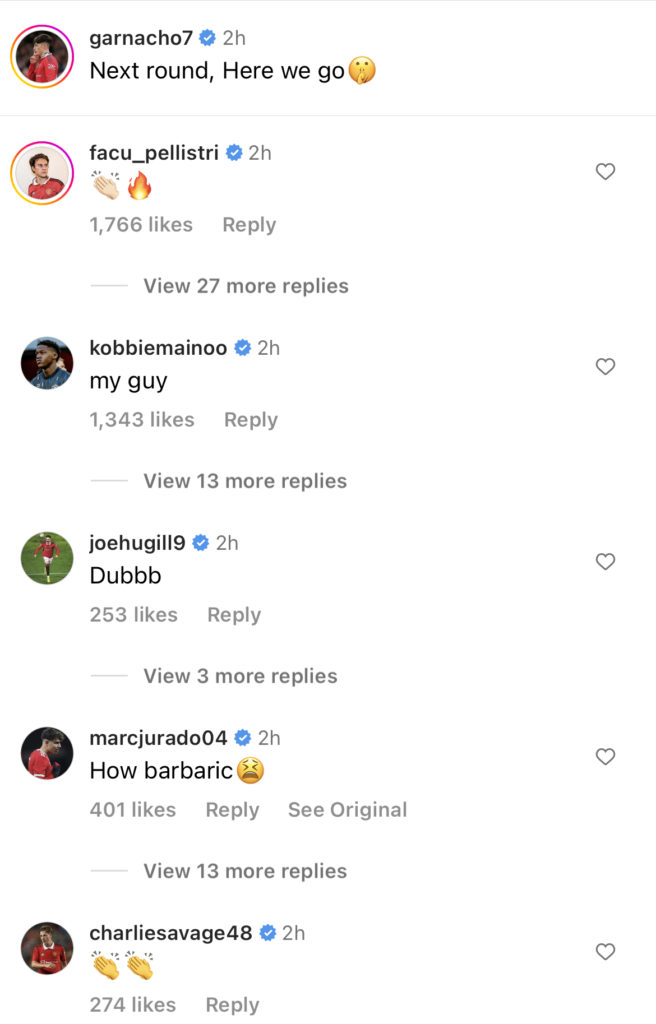 Erik ten Hag is very impressed
Manchester United boss Erik ten Hag spoke about Garnacho's impact in his post-game interview, and said that he had talked him through it before the game.
He told the club website: "I said to him before the game, 'It's getting time you have an impact when you come on, but now you have to have an impact as a starter.' I think he's capable of it. So that is the next step he has to make."
Garnacho delivered, and Ten Hag explained that he believes Garnacho has all the tools to become an elite player.
"There are not so many players in world football who can take players on or capable, they just go play and just outplay and out-dribble them. And that skill, he has. But he has more skills than only that, for example, finishing.
"But also, I see he has big energy, he is fast, he has speed, but he can keep running, for 90 minutes, for 120 minutes, it doesn't matter how long, he can do it."
'World class' – Man Utd contacted, Ajax star nodded and
wanted

to reunite Ten Hag in OTF
A player who has been coached by Coach Erik ten Hag in the past and who will now have the opportunity to work with him again at Old Trafford is quite enthusiastic about the possibility of doing so at Old Trafford.
It is not difficult to comprehend that Erik ten Hag is giving to Manchester United in a manner that is beneficial for the club as a result of the contributions that he is offering at the time. This is because of the ғᴀᴄᴛ that the contributions that he is providing at the time. After a sufficient amount of time had passed, the Dutch coaches were able to bring back contracts that were successful in terms of the amount of revenue that they brought in for their respective companies. This success was measured in terms of the amount of revenue that they brought in for their firms.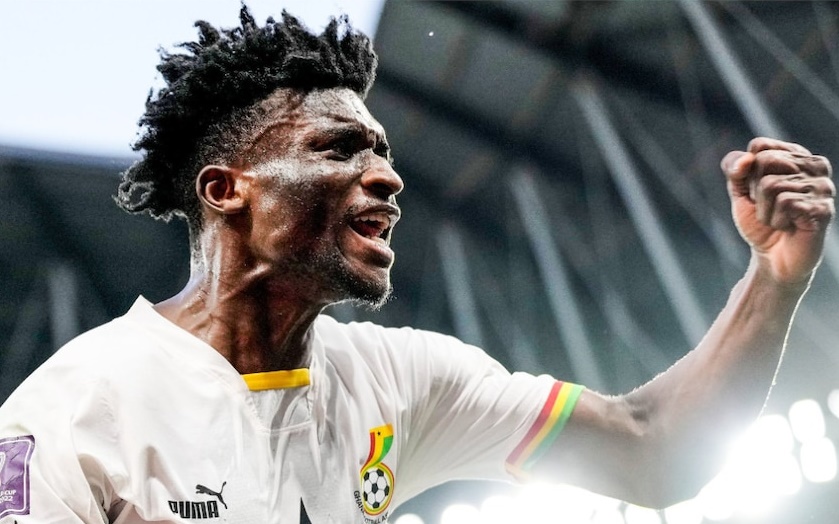 Casemiro, Lisandro Martinez, Christian Eriksen, Wout Weghorst, and Marcel Sabitzer are a few examples of individuals who have made important contributions to the expansion of Manchester United. Christian Eriksen, Wout Weghorst, and Marcel Sabitzer are also examples. Wout Weghorst and Christian Eriksen are two other examples of players in this category. Other players who fall under this category are Wout Weghorst and Christian Eriksen, to name just two examples each. Ten Hag has given everyone the assurance that there would be a big increase in the amount of high-quality signatures available following the completion of the current season.
According to Football Insider, there have allegedly been negotiations over the possibility of a contract being offered to Mohamed Kudus by representatives from Manchester United. The contract in question would be for Kudus's services as a player for Manchester United. This would begin in the spring and continue all the way through the summer until it was completed. According to him, there is a player who possesses the skills and qualities necessary for making a name for himself in the Premier League, and he believes that this player is the one who is in question. He believes that this player is the one who is in question because he possesses these skills and characteristics.
Kudus had a fantastic showing for Ajax at the 2022 World Cup, and he also helped to Ajax's victory in the Champions League by scoring four goals and assisting on two more goals for Ajax in the six matches that he played for Ajax. Kudus played for Ajax in the 2022 World Cup. Ajax's victory in the competition was made possible by both of these achievements. Ajax's success in both of the contests in which they took part was directly attributable to the contributions made by Kudus. There is a chance that the asking price of Kudus will be reduced to somewhere in the vicinity of 48 million pounds, and this is certainly a possibility.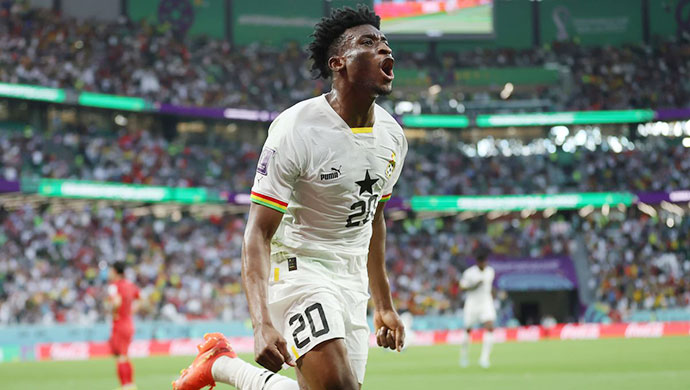 This tenacious player in the middle of the field for Ten Hag has the capacity to play behind the striker depending on the way the team is organized. In terms of the different strategic alternatives available to them, this is one of the various courses of action that they can pursue. The same source also confirmed that the Ajax player has discussed his desire to play in the Premier League with his friends and that he would like to get back again with Ten Hag.
The information was provided by the same source. One and the same source was responsible for providing the information. In addition to this, the source has indicated unequivocally that the top player for Ajax is considering trying out for a job in the Premier League. This news comes from the insider. The revelation of this information does not come as a sʜᴏᴄᴋ.
During the course of the current season, Kudus has competed for Ajax in a total of 32 different competitions, which accounts for all of their tournaments. In that span of time, he has contributed 16 goals and three assists to the overall tally of the team's successes, which can be found in the overall total.