While Virgil van Dijk is well recognized for his performance for Liverpool on the field, it appears that he can also bring a McDonald's to your car.
The Dutch defender joined Liverpool in January 2018 after moving there for £75 million from Southampton, and he is actively involved in the neighborhood. However, this week's fast food customers at the Kirkby McDonald's probably didn't expect to see the 6'5″ center-back at the drive-thru window.
Van Dijk was seen passing orders through the window while assisting the McDonald's personnel in a video that was shared on social media. Unsurprisingly, a crowd soon formed, with young people peering through the glass to see the Liverpool star.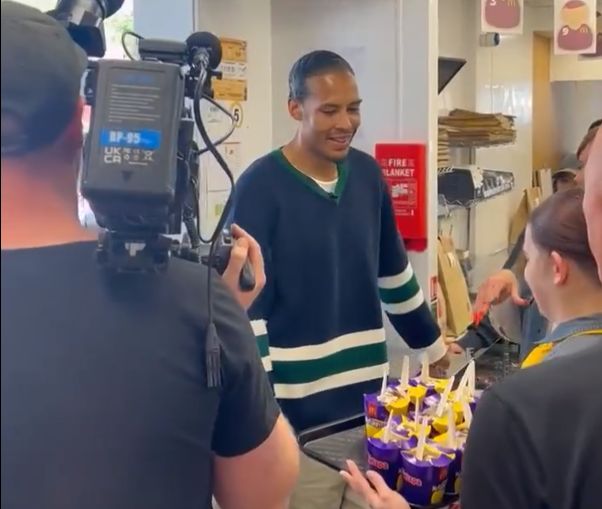 Van Dijk was then given a tray of McFlurrys to distribute to the crowd, who was wearing a casual jumper, pants, and sneakers. Fans were confused by his appearance in McDonald's, which resulted in numerous remarks online.
"He made the Maccies ice cream machine function. He can really do anything, as one commenter put it. "Getting a Mcflurry off Virgil," said another. the substance of which dreams are created.
Although it appears improbable that the 31-year-old has changed his career path before Sunday's season-ending match between Liverpool and Southampton, it is unknown why the man was there.
The more plausible explanation is that his appearance was influenced by his prior employment at the quick foot retailer. Van Dijk participated in the company's Fun Football and Happy Readers events earlier this year, which promoted reading among kids.
"Liverpool is a special place, and I love being able to give back to the community that supports us so ardently," stated Van Dijk. I really believe that every child should have the opportunity to study and play, and like McDonald's, this is a subject that is important to me and my family, which is why I'm here today.
By giving families more opportunity to obtain free books and free Fun Football instruction, McDonald's is assisting families.
We distributed more than 3,000 books to kids only today, and based on what I witnessed on the field and in the reading area, we might be developing a few aspiring writers and football stars.
Additionally, he shared a photo on Instagram saying, "I loved going out in Liverpool city centre this week, sᴜʀᴘʀɪsᴇ local children at a @mcdonaldsuk @funfootballuk x #HappyReaders event, playing a little football, doing a little reading, and seeing lots of smiles on the kids faces.
"I was there to support McDonald's ongoing commitment to offer families 2 million hours of #FunFootball and 10 million books each year, which is so crucial for the neighborhood."