Former Manchester United attacker Cristiano Ronaldo has denied reports that he has agreed to join Saudi Arabian club Al-Nassr.
The 37-year-old is looking for a new club after Man United released him before Portugal's World Cup opener last month.
Ronaldo has desired this for months, as he has been considering leaving the Premier League club since the summer.
United were initially reluctant to let him go, but he became a hindrance to Erik ten Hag.
The former Ajax manager realized that United performed better without him, so the multiple-time Ballon d'Or winner was reduced to a bit-part role.
Ronaldo repeatedly refused to come on as a substitute, and his heated interview with Piers Morgan was the final straw. His contract was terminated after he made disparaging remarks about Ten Hag and the Glazer family.
In recent weeks, the forward has been heavily linked with a move to Saudi Arabia. According to reports, Al-Nassr is willing to pay him around £173 million per year to join the Middle East side.
He would then become an ambassador for Saudi Arabia, and it was reported earlier this week that the two parties had reached a "final agreement."
Portugal's head coach, Fernando Santos, benched Ronaldo for Tuesday's World Cup last-16 match against Switzerland.
They performed admirably without Ronaldo, with Goncalo Ramos and Joao Felix shining in the 6-1 victory.
Ronaldo came on late in the game to rapturous applause from the crowd, and his goal was ruled out for offside.
After Portugal's victory, Ronaldo dismissed reports linking him to Al-Nassr.
"No, that's not true — that's not true," Ronaldo told reporters after the game.
Morgan, Ronaldo's fan, recently stated that the veteran is driven to "play at the highest level."
"He believes that if he does well in this World Cup, he will get what he really wants, which is a club in the Champions League that will extend his record and legacy," Morgan explained to the Daily Telegraph.
"It boils down to a burning desire to play at the highest level of football, to break records and win trophies." And he's done it more times than any other player in history."
Former Manchester United striker Odion Ighalo would like Ronaldo to join him in Saudi Arabia, but believes he will prefer to play for a Champions League team.
"I think Cristiano Ronaldo will want to play in a Champions League team and end his career well, but you never know," Ighalo predicted.
"He must make a choice." I wish him the best of luck with his decision, and I hope he comes to Saudi Arabia.
"I would love for him to come to Saudi because he would help the league and add more fans."
"Those who aren't already watching will begin to engage with the league and realize what they're missing."
Manchester United is interested in Joao Felix discusses Atletico Madrid's discontent in the aftermath of the Kaka comparison.
Joao Felix was one of the Portugal stars who shone in their World Cup last 16 match against Switzerland, helping his country win 6-1.
Felix contributed two assists, including the opening pass, tearing the Swiss defense apart.
It was a virtuoso performance from the 23-year-old, who has recently been linked with a move to Manchester United.
According to Spanish newspaper AS, United enquired about him in the summer, and Atletico Madrid is willing to sell him for £86 million plus add-ons.
There is a chance that his performance will inflate his price tag once more. He was outstanding last night as his team advanced to the quarter-finals against Morocco.
The way Felix glided through the final third in possession reminded ITV pundit Nigel de Jong of Brazilian legend Kaka, according to the channel's post-game coverage.
It was an apt comparison, because Joao Felix was nearly that good last night.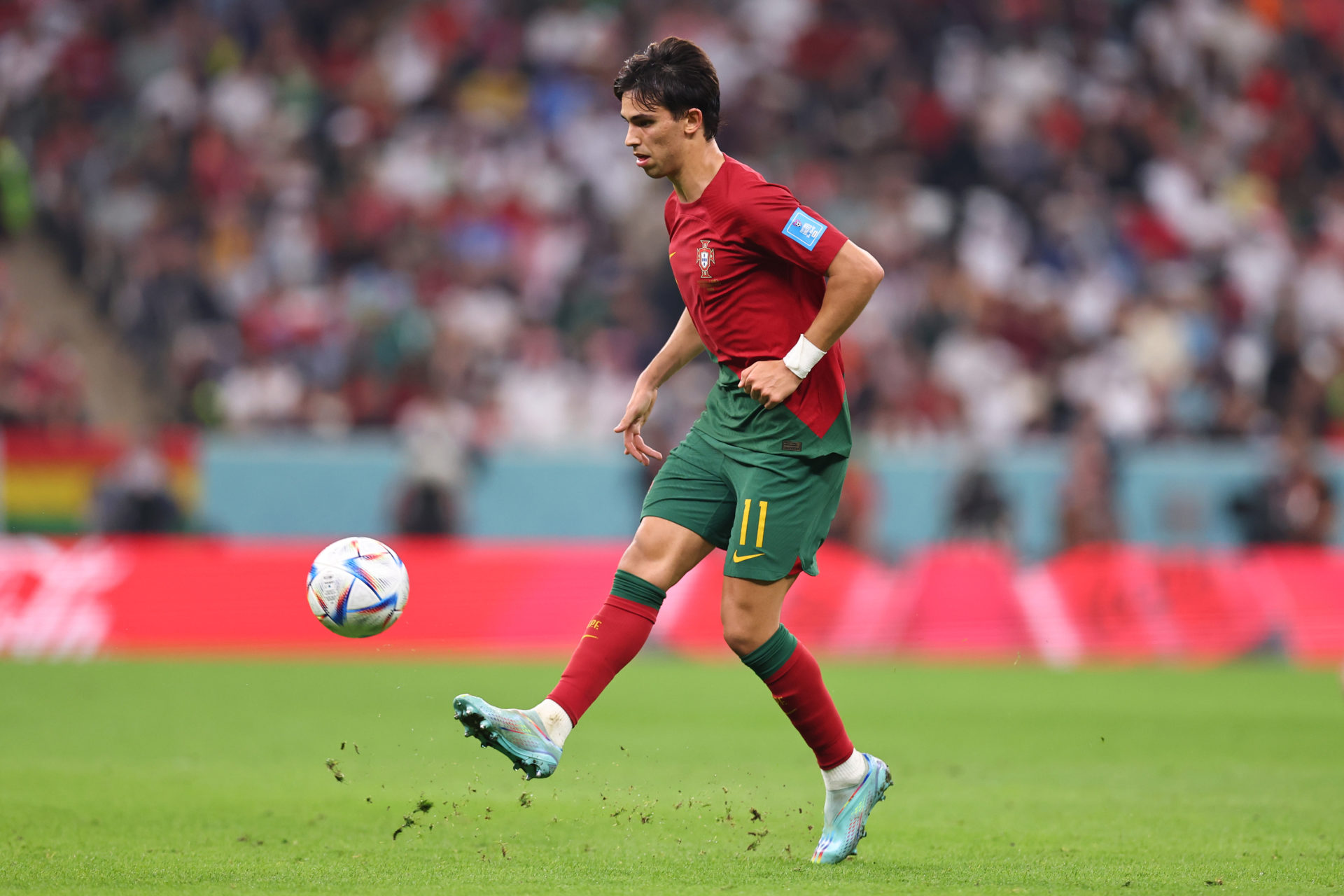 Joao Felix weighs in on Atletico Madrid's discontent.
A separate report from AS a week ago claimed Felix was eager to leave Atletico Madrid, where he has started inconsistently this season.
After the game, the Portuguese forward spoke out and opened up a little about the difference between international and club football, implying that all is not well in the Spanish capital.
Felix's Atletico Madrid finished last in their Champions League group and fifth in La Liga.
It appears that changes are unavoidable, and Joao Felix is a valuable asset that they could capitalize on.
It's unclear whether Manchester United are willing to pay a high price for the forward, or if Erik ten Hag would prefer a more traditional center-forward like Goncalo Ramos.