Cristiano Ronaldo's eldest son, Ronaldo Junior, joined the U11 Man Utd team with an expensive contract.
Gabriel Reyes-Flores, a child player for the Man Utd U12 team, shared a photo with Ronaldo Jr holding a Man Utd jersey with the status line: "It's good that my contract signing day has finally arrived. This day is even better when I can do it with my teammate, Ronaldo Jr." This is also the first professional contract in the career of the young Ronaldo.
Ronaldo Jr followed his father to Manchester to play. If Ronaldo joined the Man Utd first team last summer, Ronaldo Jr also made it to the Man Utd academy team from the beginning of September until now, before offici ally signing with the U12 team.
Ronaldo Jr also chose the number 7 shirt like his fa ther, while Gabriel was given the number 10 shirt.
According to ESPN, Ronaldo's son earns a salary of 5,000 pounds a week (about 153.9 million VND a week). This is an impressive number for a U11 player like Ronaldo Jr.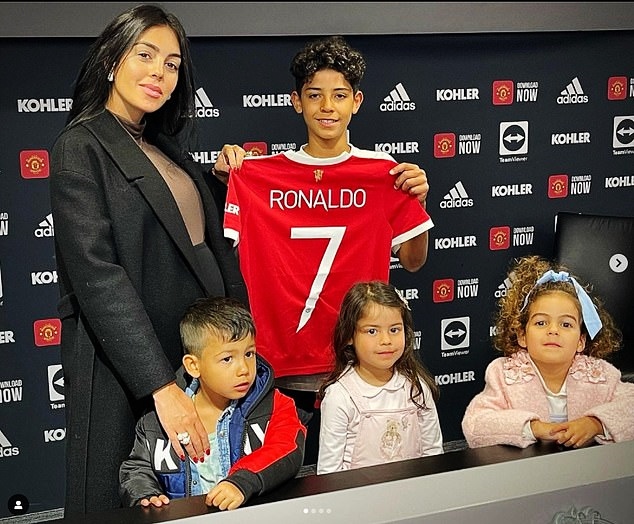 While playing for Juventus U9, his son Ronaldo soon made quite an impression. According to Football Talent Scout statistics, Ronaldo Jr has scored a total of 58 goals and assisted 18 times in 28 games.
In the U11 Man Utd team, Ronaldo Jr will be teammates with Gabriel and Kai Rooney (son of Wayne Rooney) and Filip (son of Matic). Both players have parted ways with Man Utd.
In the Netflix documentary about his girlfriend Georgina, Ronaldo shared: "I never pressured my son (to be a footballer). I will listen to the will of the boy. What I want to do is make him happy with his choices. I will support it."