With the fates of Donny van de Beek and Scott McTominay are currently unknown, it is predicted that Manchester United will make an addition to its midfield during this summer's transfer window.
United needs a younger midfielder to relieve Casemiro and Christian Eriksen of some of the pressure, but even Fred just signed a one-year option, despite his recent improvement.
It's possible that Marcel Sabitzer will be loaned out, and United might even consider shelling out a lot of cash to win the Jude Bellingham race.
Another option is Borussia Moenchengladbach's Kouadio "Manu" Kone, a midfielder in the Bundesliga.
Manchester United may consider signing Kouadio "Manu" Kone
In 2021, Footmercato reported that Manu Kone was being courted by Manchester United while he was a player for Toulouse.
L'Equipe said that United kept an eye on Kone while he competed in the Bundesliga last season.
Last month, L'Équipe reported that Paris Saint-Germain is showing interest in Kone. He continued his strong play this season, recording 21 starts for 'Gladbach.
The center midfielder is a highly promising young player who is only 21 years old, and his price tag might boost his viability.
Fussball Transfers reports that Kone might be allowed to go this summer for just 30m Euros, or roughly £26m.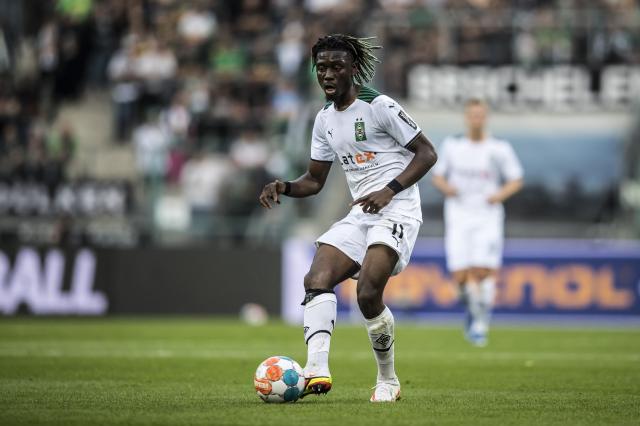 This is a fairly reasonable sum for a player whose worth is anticipated to increase over the course of the next five years, with a call-up to the France national team likely occurring within the next twelve months.
Although Kone's contract only has two years left this summer, Sport1 speculated last year that he will cost closer to £40m.
Harry Kane advised that Man Utd "is the only option" if he leaves Tottenham this summer
Gary Neville believes that Manchester United is Harry Kane's only realistic option in the Premier League if he decides to leave Tottenham this summer.
Kane's contract with Spurs expires in June 2024, therefore the team will have to make a significant choice at that time. The club might be tempted to sell him this summer in order to avoid losing their all-time leading scorer for nothing the following season.
After Tottenham were eliminated by Championship team Sheffield United on Wednesday night in the FA Cup fifth round, speculation that Kane would leave his childhood club this summer has resurfaced. Kane, who came off the bench to start that game, has played for Tottenham's first team for 12 years without ever taking home a trophy.
Neville believes that United are currently the ideal match for the England captain, who had previously made a strong effort to try to join Manchester City in the summer of 2021. Neville remarked on Sky Sports, "He's a wonderful professional and I think if Harry Kane could get him an escape out of there to a team in Manchester — presumably United or City, I think he would grab that opportunity.
"Now, given their [Erling] Haaland expenditure and what they did with him, it's highly possible that City wouldn't be the case. Manchester United is in need of a center-forward badly.
"Tottenham supporters will be upset with me because they'll think I'm trying to lure their star to Manchester United by appearing on television. It isn't. Simply put, it seems to me that the most plausible course of action at this time.
London – Harry, I don't think he'll enroll at Chelsea. He has a strong loyalty to Tottenham, and Chelsea and Tottenham are fierce rivals. I don't think that will happen. Although they do require a center-forward, I don't think it will happen.
He won't go to Arsenal, once more due to the rivalry. Thus, I believe that Harry Kane's only option in England this summer is Manchester United. There has been talk of Bayern Munich, so it might happen.
We could see that Daniel Levy would be happier if he were sold abroad. Yet, I believe that Harry will have to leave Tottenham if he wants to win trophies, as they do struɡɡle in that area.
Kane will turn 30 in July, which means that time is running out for him to win club championships. Kane may be on Manchester United's radar as they look to add a striker before the summer transfer season, according to recent rumours.
The summer loan agreement between Burnley and Wout Weghorst will expire, and due to the Dutchman's dearth of goals, Burnley may not be eager to buy him on a long-term basis. Anthony Martial may also go. Erik ten Hag likes Kane, Victor Osimhen of Napoli, and Goncalo Ramos of Benfica.