Pep Guardiola believes the crowd of fans at Old Trafford influenced the referee's decision, resulting in Manchester City's 1-2 loss to rivals Manchester United in the Premier League.
Manchester United triumphed 2-1 over Manchester City in round 19 of the Premier League at Old Trafford last night (January 14). After Jack Grealish opened the scoring for Man City, the'red devils' scored two goals in four minutes, thanks to goals from Bruno Fernandes and Marcus Rashford, to take three points.
MU is still third in the table, but it is only one point behind second-placed Manchester City and six points behind first-placed Arsenal (Arsenal kicks less than 1 match).
The 1-1 tie in the 78th minute by MU sparked a heated debate. Rashford was in an offside position when Casemiro crossed the ball, but he still ran after it and did not touch it until Bruno Fernandes scored.
The match was then decided by Rashford's decisive finish in the box from Alejandro Garnacho's cross. Rashford has every right to be proud of his 8 goals in the Manchester derbies against Manchester City.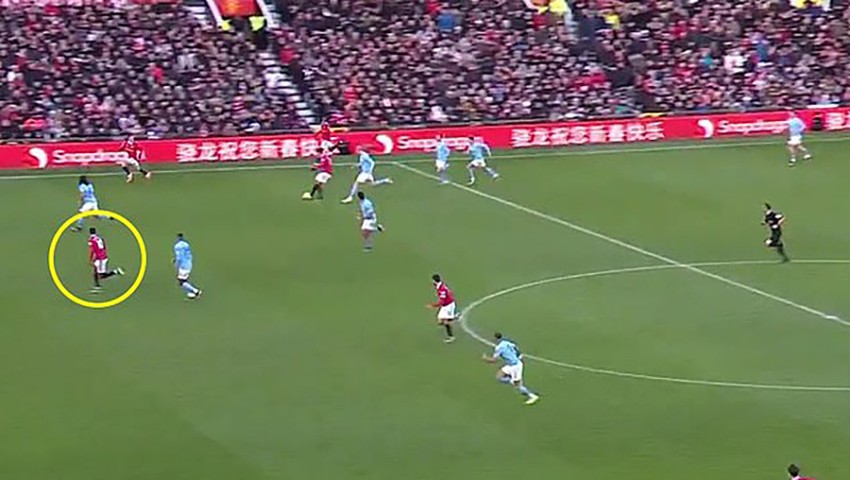 Rashford was offside in Manchester United's controversial equalizer. PHOTO CREDIT: BT SPORTS
Following the game, Pep Guardiola appeared perplexed as to why referee Stuart Attwell recognized MU's equalizer goal. Rashford dodged the ball after running after it, allowing Bruno Fernandes to finish the goal. Darren Cann, the assistant referee, raised the offside flag. However, the goal for MU was recognized after an exchange of referees. The Spaniard for Manchester City has blamed the crowds at Old Trafford for putting pressure on referees' decisions.
'Rashford is offside, and he is distracting our players,' said Pep Guardiola after the game. I may not understand the rules, but I know where we're playing. It's possible in this Old Trafford stadium, with this referee.
When we allowed United to equalize, it was critical that we did not concede another goal so soon. That is what we need to work on. The referee made the decision not to intervene. Should we make a fuss? No. It's Old Trafford. It's similar to Anfield. You must improve your game."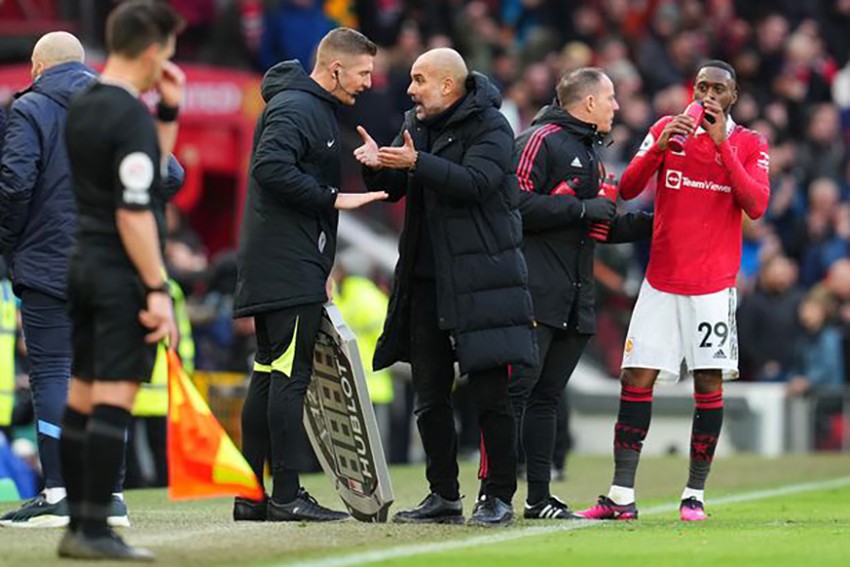 Pep Guardiola believes the referee's decision was influenced by the atmosphere at Old Trafford, but he did not appeal. GETTY PHOTO
MU had a very good first half against Man City, clogging all of the opponent's playing space and making the green man unable to accelerate. Perhaps MU would have scored first in the first half if Rashford had converted two golden opportunities.
Pep Guardiola appeared to have understood his colleague Erik ten Hag's tactics in the second half when he sent Jack Grealish on the field, and Jack scored the opening goal from Kevin de Bruyne's cross.
That was De Bruyne's only break from Fred's tutelage. Luke Shaw has complete control of Erling Haaland, Aaron Wan-Bissaka pursues Phil Foden until he is replaced by Grealish, and Christian Eriksen and Fernandes are ready to stop Man City's attɑck.
Ten Hag is steering the program in the right direction. MIRROR PHOTO
'Working on team spirit is one of my main jobs,' said Ten Hag. One component of that is resilience, and this group is making great strides in learning how to deal with setbacks and times of distress.
You have to keep going when you're down, but now we have players who know how quickly the game can change. We are much better prepared than we were a few months ago to deal with setbacks."
Rashford's two best chances in the first 45 minutes were blocked by Manuel Akanji's clearance and Ederson's brave save. Then, at the end of the first half, Rashford was lying on the ground with his leg in pinning, but he was able to play until the end of the game and score the game-winning goal.
'Marcus Rashford is unstoppable,' Erik Ten Hag added. Opponents will find it difficult to stop him. He knows how to handle it. Rashford understands that in football, you must suffer and make sacrifices."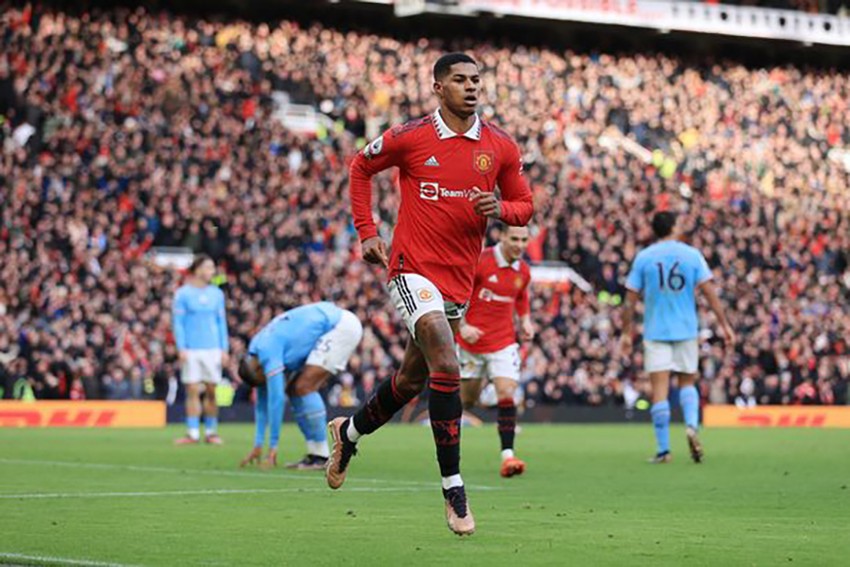 Rashford is in excellent form. GETTY PHOTO
When Man City began to find their rhythm again after the break, it appeared that everyone expected Pep Guardiola's teachers and students to come away with three points at Old Trafford after Grealish had gone home.
Man City collapsed unexpectedly quickly when Fernandes drew back hope for MU. Finally, Rashford went down to receive Alejandro Garnacho's pass and score the game-winning goal, which Sir Alex Ferguson celebrated in the stands.