The photographs of Lionel Messi hoisting the World Cup trophy on Instagram broke the previous mark for likes that he and Cristiano Ronaldo had previously established.
Messi's World Cup-winning photo series in particular has grown to be the most popular sports athlete Instagram post (up to this point, 51 million likes after 22 hours). The previous Instagram record was set by a photo of Messi and Ronaldo playing chess that was uploaded on Ronaldo's account in November and received 42 million likes.
Messi posted the same collection of images and stated: "I am the global champion.
This title has long been in my dreams. Unbelievable. I want to thank my family, friends, and everyone else who has ever supported and believed in me. We have demonstrated the greatness of the Argentine people when they are battling together.
This championship was won by the Argentina squad, not by me or anybody else. That is the power we have when we all work toward the same dream and goal. We succeeded.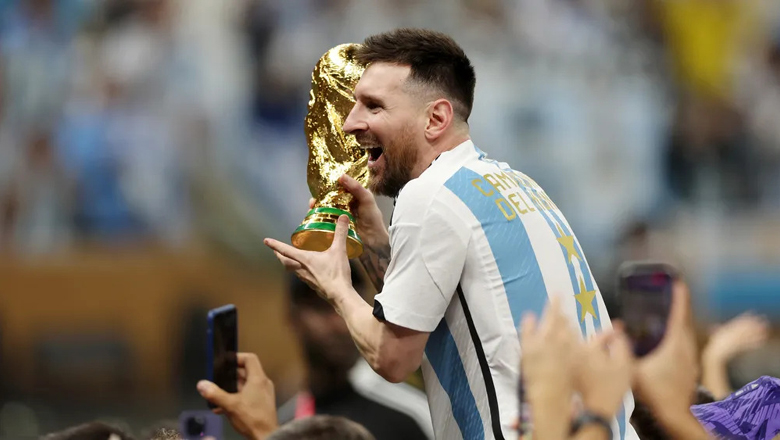 Messi once beat Instagram's record. 2021. Following the iconic Diego Maradona's passing on November 25, Lionel Messi's Copa America triumph photo received more than 20 million likes, breaking Cristiano Ronaldo's previous record (19.8 million).
Messi currently has 119 million fewer Instagram followers than Ronaldo, who has 400 million.
Messi received a special honor in his career
After winning the 2022 World Cup, Lionel Messi received many well wishes from famous people such Pele, Van Djik, and even former US president Barack Obama.
Lionel Messi received numerous well wishes from prominent influencers and social media superstars during the thrilling World Cup final match against France, including his former team. Barack Obama, a former US president, and Barcelona.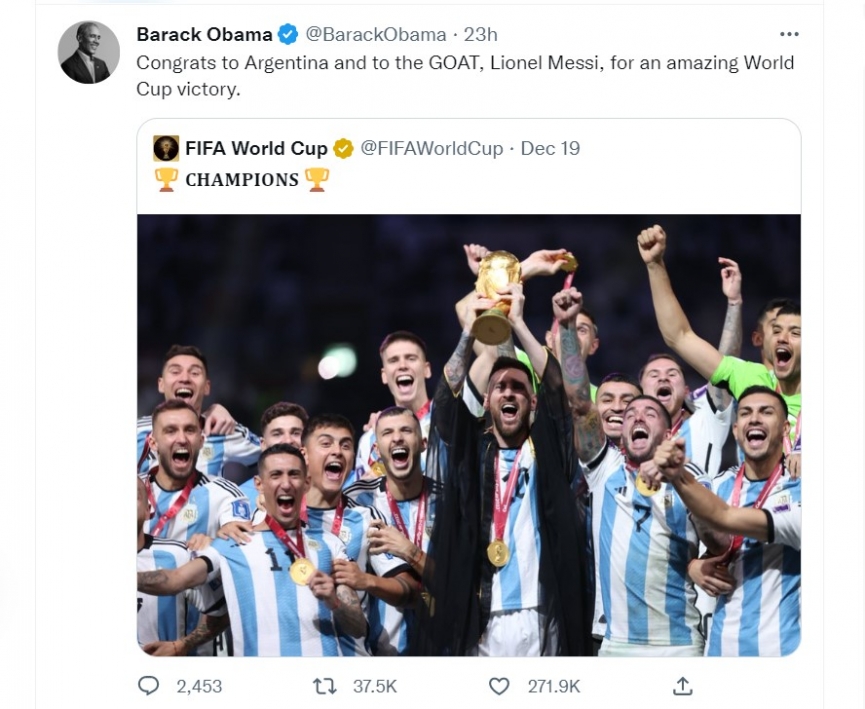 "Congratulations to Argentina and GOAT, Lionel Messi, for a terrific triumph at the World Cup," Obama posted on Twitter.
Messi receives a clear message from FC Barcelona: "The best player history has ever produced."
James Maddison, a player for Leicester City and England, tweeted: "Football fans should be aware that Messi's performance tonight does not indicate whether or not he is the finest player to ever play the game. If not, today. But for those who believed he needed it, I'm happy he did it. There is no longer a disagreement."
Post by Gary Lineker: "Being able to watch Lionel Messi for almost 20 years has been a privilege. The game of football is a hypnotic, heart-stopping joy at every second. He is a gift from the football deities. Really. I'm happy he took home the gold in our sport."
Messi afterwards shared an emotional statement on Instagram to express his gratitude to his family, friends, and everyone else who had faith in him to pull off the feat. Messi penned: "I can't believe it; despite how much I have desired it and dreamed of it, I never give up. I'm really grateful to my family and to everyone who has helped me. for me and everyone who has supported us."
Van Djik reacted on Messi's Instagram picture with a clapping emoji and offered his congratulations to the former Barcelona player on his World Cup victory. Pele, who is presently facing cancer, also sent her response by using the emojis for prayer and the heart.
Jordi Alba, a former colleague of his at Barca, said: "Best wishes, guy! You merit it!"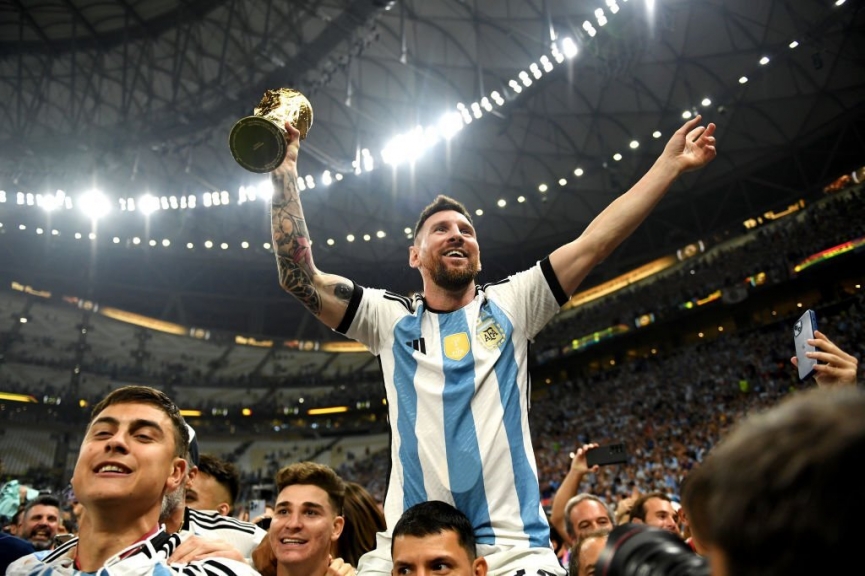 The World Cup 2022 has now come to a conclusion, leaving supporters with a wide range of feelings. Argentina won the title under Lionel Messi's leadership after defeating France in a penalty shootout.
Despite the two teams being well matched, La Albiceleste seized the lead when Messi converted a penalty, and Angel di Maria then extended the lead with a brilliant counterattack.
But in the second half, Didier Deschamps' army changed the course of the match and forced overtime. Before the Paris Saint-Germain star converted from the penalty spot to tie the game and infuriate the French fans at the Lusail Stadium, Kylian Mbappe had cut the margin to 1-2. tong.
Messi's strike to make it 3-2 in extra time brought the drama to a dramatic conclusion. However, France closed the gap once again when Mbappe scored his second penalty to complete his hat-trick and force overtime.
After 36 years of waiting, Argentina finally won the World Cup on penalties with a 4-2 victory.