Rio Ferdinand believes that France's left flank is vulnerable due to the attacking abilities of Kylian Mbappe and Theo Hernandez.
The defending champions qualified for Sunday's World Cup final with a 2-0 victory over Morocco at the Al Bayt Stadium on Wednesday. Hernandez and substitute Randal Kolo Muani scored the decisive goals that ended Morocco's fairytale run to the semifinals.
In the final, France will face Argentina and their legendary talisman Lionel Messi at the Lusail Stadium.
Manchester United legend Rio Ferdinand believes Argentina can win their first World Cup since 1986 if they attack France's weak left flank.
"If you look at France's weaknesses, and there aren't many, their left side is an area of the field that I believe opponents have been focusing on," Ferdinand said to BBC Sport.
"A third of their conceded opportunities have originated from that side of the field. This is unfortunate, as [Lucas] Hernandez sustains a serious injury on this side, but such incidents have become commonplace throughout the World Cup.
"Against Denmark, they immediately go for that side of the field, and one of the things I examined was whether or not Mbappe's presence on that side of the field gave them permission to stay higher up the pitch.
"However, this creates pressure on that side of the field. Against England, [Bukayo] Saka and [Harry] Kane committed an error, and this was the foul that never resulted in a penalty."
Mbappe is indisputably one of the best players at the World Cup and is tied for the most goals with five. However, the PSG star is not known for his defensive work, whereas Hernandez is also an offensive-minded player.
Didier Deschamps' first-choice left-back is Lucas Hernandez's brother, but the Bayern Munich star suffered a serious knee injury in the opening World Cup match against Australia. Due to the injury, he is not expected to play again this season.
Argentina must find a way to defeat France on Sunday to end their lengthy wait for a world championship. After losing the 2014 World Cup final to Germany, Messi will be desperate to win the tournament. He is arguably the greatest player to never win the World Cup.
Messi scored a penalty kick and assisted Julian Alvarez's second goal during Tuesday's 3-0 victory over Croatia for Lionel Scaloni's team. Messi is having his best World Cup campaign ever and, like Mbappe, has scored five goals in Qatar.
France will be difficult to defeat. Without Karim Benzema, Paul Pogba, and N'Golo Kante, Deschamps' squad has reached the World Cup final. Due to illness, both Adrien Rabiot and Dayot Upamecano missed the semi-final. Such is their strength in depth.
Antoine Griezmann: Grudge against Messi
The French team was underrated prior to the World Cup due to a number of personnel losses on all three lines, and nobody anticipated Griezmann to perform that well. This striker's usage has been so minimal since the 2022–23 season began that he has insulted Atletico, the team that helped started his career. Grizou is no longer one of the biggest stars in the world, but the online community now frequently makes fun of him.
You are not to blame for the issue. Griezmann departed Atletico Madrid for Barcelona a couple years back. But Barcelona is no longer the formidable giant it was in the early 2010s. Los Blaugrana became rickety as a result of crisis from the top to the field. Griezmann has drawn criticism for failing to live up to expectations given the price tag of 120 million euros since he only occasionally shines momentarily in that deteriorating machine.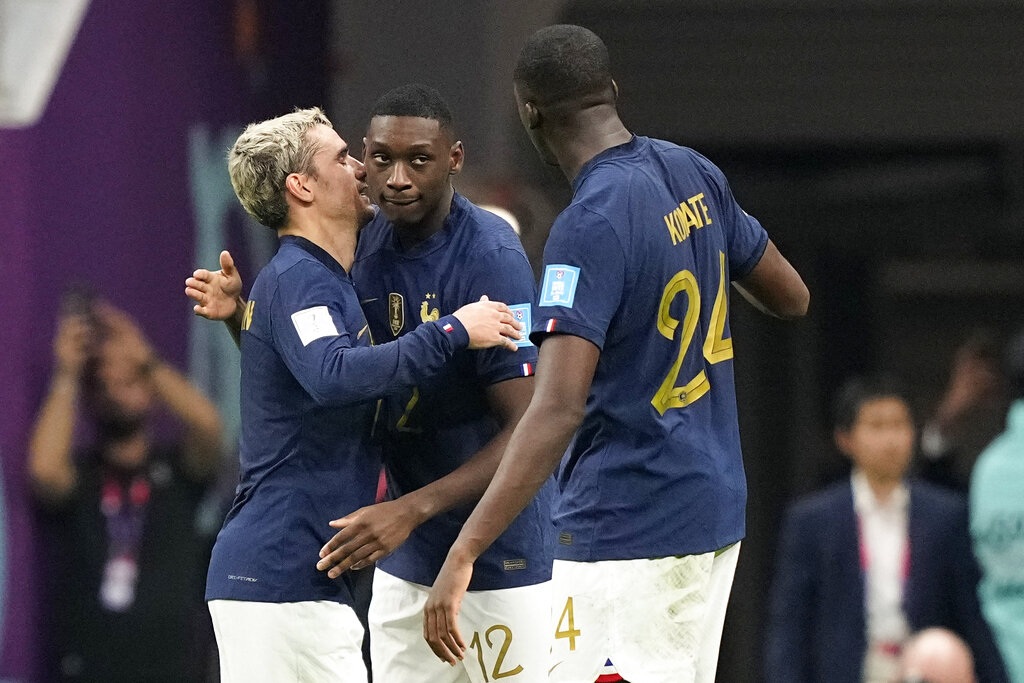 As a result, Barca forced Griezmann to sign a three-year loan agreement with Atletico. It is important to note that the contract has a clause allowing for a progressive calculation based on the number of minutes played. Coach Simeone implemented a strategy to only employ the French striker for fewer than 30 minutes per game in order to save money. For the offensive star who was once regarded as the best in the world, an uncommon and perverse scenario.
Messi presents another issue for Griezmann when donning a Barcelona jersey. They fought each other from position to style, making it impossible for the two to get along on the field. Of course, Grizou could not match with La Pulga for influence. He ran into a wall. Many amusing stories have surfaced in public, in addition to the reports of a terrible relationship between the two in the dressing room.
For instance, the infamously impulsive striker Christophe Dugarry, a former Barça player and member of the French national team, once sparked controversy when he encouraged Griezmann to fight Messi. "What frightens Griezmann, and why? A semi-autistic person who is five and a half feet tall? All he needs to do is detonate everything "explained Dugarry. "He first claimed to have a problem with Messi a year ago. He ought to have been hit in the face by him."
No one manages things that way, of course. The winner and loser on the field are decided by player conversation. Atletico is still suffering from the harm Messi and Barca inflicted on Griezmann. Griezou now has the chance to make good on the debt he owes the Argentine great by leading the French squad to the World Cup 2022 final with a stellar performance.