Contract negotiations between  Manchester United  and goalkeeper  David de Gea  are 'ongoing', according to a report.
The 32-year-old is currently enjoying his 12th season as a Red Devils player, but his long-term future has been called into question as his contract is due to expire at the end of the season.
De Gea is believed to be Man United's highest earner on around £375,000 per week, but the 20-time English top-flight champions are keen to reduce his wages after allegedly imposing a salary cap of £200,000 at the club following the departure of  Cristiano Ronaldo .
The Spanish shot-stopper, who is currently the longest-serving player in the Red Devils' squad, is said to be willing to take a significant pay cut to remain at Old Trafford.
Last month, De Gea expressed his desire to retire at Man United and provided a positive update regarding contract talks with the club.
Speaking to  Sky Sports News , about contract talks with the club, De Gea said: "I'm very relaxed. I just focus on training, perform as best as I can. But, for sure, it's going to end in a good way.
"I hope (to stay for the rest of my career). I was saying this is my club, I've been here many, many years and it's a huge honour to be here and I'm so happy here."
According to transfer expert  Fabrizio Romano , positive conversations between De Gea and Man United over a new contract are 'ongoing'.
Romano adds that United have not trigged the 12-month extension in his contract as they are trying reach an agreement with the goalkeeper to lower his wages, with both parties hoping to finalise terms 'soon'.
The Italian journalist also claims that renewing the contracts of  Marcus Rashford  and  Diogo Dalot  are high on Man United's list of priorities as well as to 'accelerate' negotiations over a new deal for  Alejandro Garnacho .
De Gea arrived at Man United from Atletico Madrid in the summer of 2011 for what was at the time a British record fee for a goalkeeper of around £18.9m.
The 45-cap Spain international has since made a total of 524 appearances for the Red Devils across all competitions and has won eight major trophies, with Sunday's EFL Cup triumph the latest addition to his collection.
De Gea kept his 181st clean sheet for Man United in the 2-0 victory against Newcastle United at Wembley, surpassing legendary shot-stopper  Peter Schmeichel  to break the club's all-time record.
Should the Red Devils fail to agree terms with De Gea in the coming months,  Brentford  No.1  David Raya  and  Leeds United  shot-stopper  Illan Meslier  have allegedly been identified as potential summer targets.
'Samba Dance' – Backed by Qatari power, Ten Hag eyeing 'Cavani 2.0'
In the event that United is unable to agree terms with Weghorst this summer
In the event that Manchester United are unable to get the services of Wout Weghorst during the summer transfer window, it is possible that they will attempt to sign Vitor Roque instead.
The young Brazilian player, who is only 18 years old and has been given the nickname "the future Luis Suarez," after being selected for the Team of the Tournament in the 2022 Copa Libertadores, has received widespread praise for his ability. The dynamic attacker made a key contribution to Brazil's win in the 2023 South American U20 Championship by scoring six goals for the team. Some recent events took place.
Despite the ғᴀᴄᴛ that clubs like United, Chelsea, and Arsenal are interested in signing Roque, his current contract with Athletico Paranaense has another four and a half years until it is up for renewal. Roque's current club is Athletico Paranaense. But, while speaking to the Spanish daily SPORT, the midfielder admitted that signing with Barcelona would be his preferred option in the event of a free agency. "Unquestionably, without a shadow of a doubt.
Roque remarked, "I had to put in a lot of work in order to be able to play in Europe." The ғᴀᴄᴛ that I competed in the Libertadores and the Brasileirao competitions the year before will help me to be well prepared for the championships that I will be playing in Europe. I am pleased to have achieved the age of 18, which enables me to participate in other nations. I have been looking forward to this opportunity for a long time.
"My goal is to continue working with humility because I think that through having confidence in God, everything will work out for the best. This is why my goal is to keep working with humility. I make it a point to concentrate my thoughts on the here and now so that I can play Athletico to the best of my ability. If things work out for you in this country, I have no reason to believe that you won't find success in Europe as well.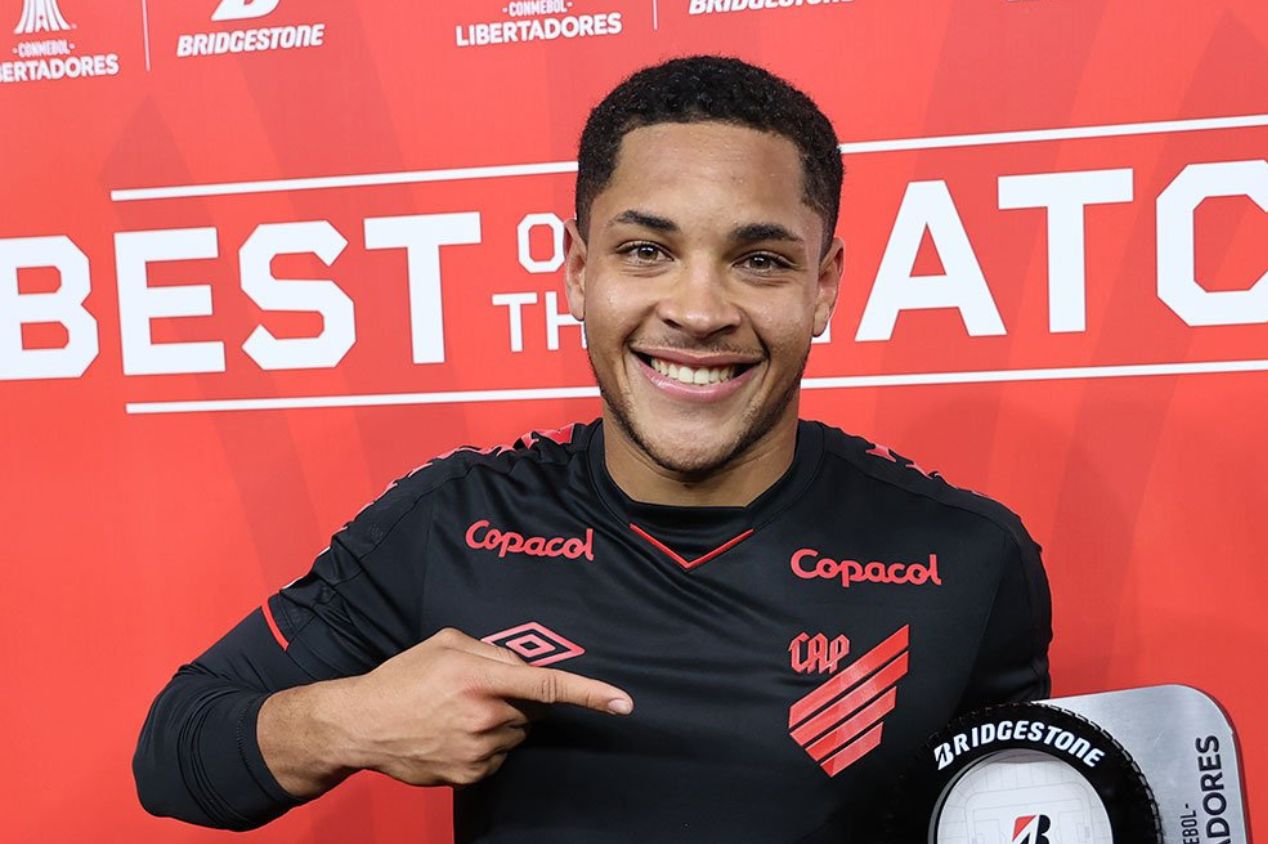 "It is not only a dream of mine, but it is also a dream of every other player in this competition. In the event that I do end up coming to Barcelona, it will be an extraordinary wellspring of joy not only for myself, but also for my family and friends. As a result of this, I have little choice except to continue working long hours and keeping my fingers crossed that everything will eventually fall into place. Roque has mentioned that he is a major fan of Lewandowski and is attracted by Barcelona's tradition of displaying bright young players. Roque also stated that he would be interested in playing for Barcelona. Roque has an interest in replicating the success that Gavi and Pedri have had in Xavi Hernandez's midfield, and he would like to follow in their footsteps.
The striker, who is only 18 years old, has notched up seven goals and three assists for Athletico Paranaense in 37 appearances played for the club. But it was at the South American U20 Championship where he really started to make a name for himself among the fans. In February, Brazil was the team that emerged victorious, and he concluded the competition tied for first place in terms of points scored.
Roque and Andrey Santos, a colleague of Roque's who has recently joined with Chelsea, each scored six goals for Brazil during the course of their nine matches. Roque is tied for first place in the team scoring race with Andrey Santos. The eighteen-year-old midfielder was purchased from Vasco Da Gama by Todd Boehly for a cost of sixteen million pounds, despite the ғᴀᴄᴛthat he has not yet been granted a work visa. The transaction took place between the two clubs.