When it comes to travel, Norwegian striker Erling Haaland, who plays for Manchester City, loves to use a private plane more than his teammates do. Haaland's preferred "flying taxi" is Vistajet's 9H-ILV Bombardier Challenger 850.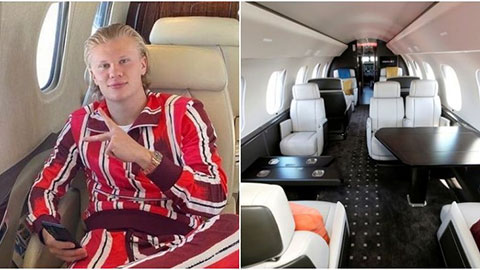 Not only scoring loudly on the pitch, Haaland also showed a sense of style, willing to play through the use of a private plane to move. According to the Daily Mail, Haaland's frequency of using private jets has become more dense than that of many colleagues.
The 9H-ILV Bombardier Challenger 850 that Haaland still uses is worth $32 million and costs about $10,000 an hour to rent from VistaJet.
Made in 2008, the 9H-ILV Bombardier Challenger 850 has many of the features expected in any aircraft used by VIPs. This aircraft has a length of 26.77 meters, a height of 6.22 meters, a wingspan of 21.21 meters.
The aircraft is powered by two General Electric CF34-3B turbofan engines. Its top speed reaches 1,041 km/h with a maximum range of 5,206 km. With luxurious and comfortable interiors, the aircraft's cabin provides comfort for 14 passengers.
In addition to Haaland, there are many other sports stars, including F1 driver Charles Leclerc who prefers to use the 9H-ILV Bombardier Challenger 850.
Some pictures of Haaland's "flying taxi"