Cristiano Ronaldo has officially quit European football before 2022 is done. When Saudi club Al Nassr revealed that the two parties had agreed to a contract that would run through June 2025, all rumors regarding CR7's future were put to rest.
Ronaldo has finally ventured outside of his comfort zone after rejecting a large offer of up to 350 million euros in compensation from another Middle Eastern club, Al Hilal, last summer. This time, the outcome is a contract that might allow him to make around 200 million euros a year.
Ronaldo officially joined Al Nassr and will wear the familiar number 7 shirt
In the upcoming months, Ronaldo will be the highest-paid football player on the planet thanks to that sum. The Portuguese superstar's ambition, nevertheless, has never been limited by money. Speaking on the opening day of the new club, CR7 reaffirmed the conqueror's perspective of entering a new setting.
"The prospect of discovering and dominating a new league in a foreign nation excites me. The sporting vision of Al Nassr demonstrates how ambitious they are. And that encourages me even more to catch up to new teammates quickly and contribute to the team's success."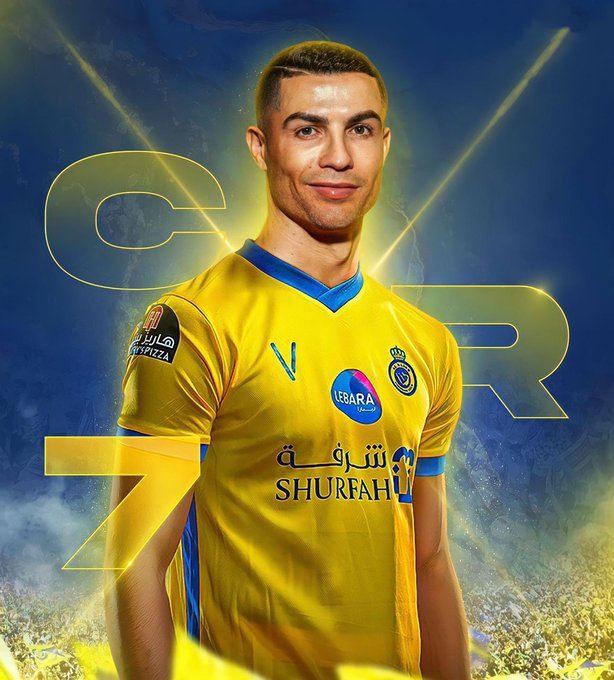 Ronaldo aims to win the AFC Champions League
Cristiano Ronaldo's incredible move to the Middle East has been confirmed, but previous interviews suggest this is a move he never could have imagined at his peak.
Ronaldo was a guest on the iconic chat show in 2015, when he was at his very best with Real Madrid. Towards the end of his questioning, Ronaldo was asked about where he sees himself finishing his career.
His response was as emphatic and certain as his finishing with the Spanish giants. "In my mind, I want to finish in the top level ," Ronaldo said. "I want to finish with dignity in a good club.
"That doesn't mean going to the USA, Qatar, or Dubai, is not good. But, I don't see myself [there]."
Cristiano Ronaldo told Jonathan Ross 'I want to finish at top level' before Saudi move
Prior to this, Jorge Mendes, Ronaldo's agent, had discussions with numerous elite teams over the summer to seek out specific offers for his client.
Despite being approached, certain significant players, like Bayern Munich, Chelsea, and Atletico Madrid, failed to come to an agreement.
Al-Nassr was another team who made a request to purchase Ronaldo in the summer, but they had to wait until Ronaldo departed Manchester United on a free transfer before they could finalize the deal.
It is simple to understand why Al Nassr is willing to put so much money into the Ronaldo agreement given that it is run by a member of the Saudi royal family. The Portuguese superstar's participation not only boosts the caliber of SPL but also improves the Middle Eastern nation's reputation among foreign allies.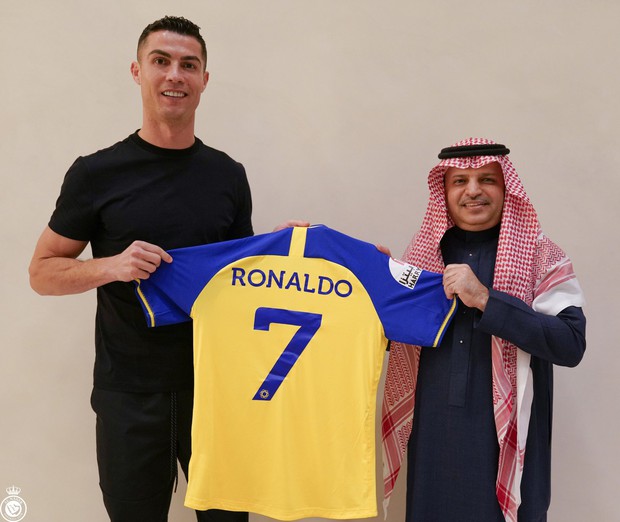 Al-Nassr is run by a member of the Saudi royal family
According to the European press, besides Ronaldo, Al Nassr is also planning to approach N'Golo Kante and Sergio Ramos – two stars who will become free agents at the end of this season.
The giants of Saudi football want to create a new empire to compete fairly with rival Al Hilal in the domestic tournament, as well as raise the ambition to win the AFC Champions League.
Fans: 'Ronaldo's career is over'
Many fans believe that Cristiano Ronaldo ended his career after coming to Al Nassr to play.
After the Saudi team announced the Ronaldo deal, the fans expressed their views on social networks. One account wrote: "It can be said that Ronaldo's career is officially over". Another fan commented: "Ronaldo joins one of the worst teams in Saudi Arabia."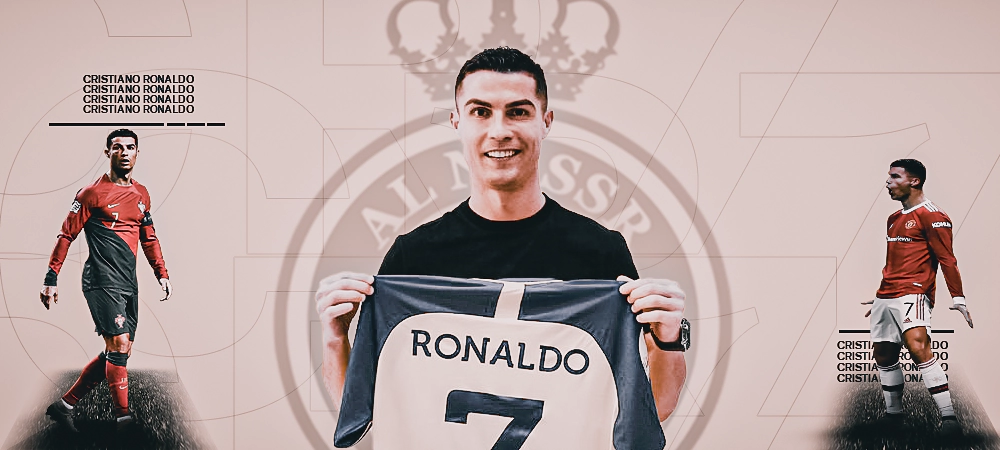 Another fan named K.Shah shared: "Ronaldo went to Saudi Arabia? Everything closed. He was angry at what happened at MU, refused to play or sit on the bench and did not comply with the rules at the club. Then At that time, Ronaldo also voluntarily left the team without permission and then conducted an interview with Piers Morgan. Ronaldo failed in the World Cup when he did not contribute anything to the team and now his career is probably over."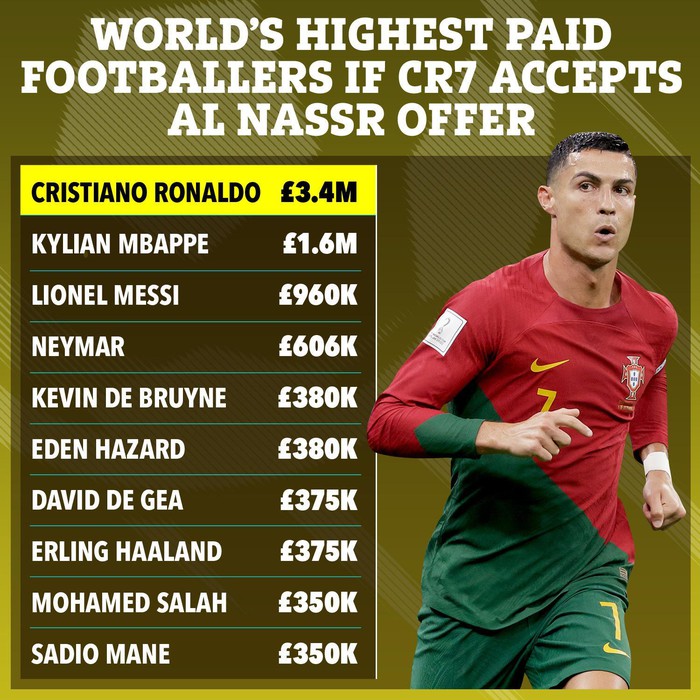 Ronaldo will receive a salary of £ 3.4 million / week, 2 times higher than Kylian Mbappe
Ronaldo is said to agree to receive an income of up to 200m euros per year at Al Nassr. This figure includes salary, bonus, sponsorship contracts and branding for Al Nassr.
Ronaldo is the biggest contract in the history of the Saudi Pro League. This 37-year-old striker has won the Champions League 5 times, crowned the Premier League, Serie A and La Liga and won a series of individual titles big and small in his career.
Al Nassr's official account also commented: "History is being made. This is a signing that not only inspires the club to achieve greater success, but also inspires the league and the world as a whole. our country and future generations, boys and girls become the best versions of themselves. Welcome Ronaldo to his new home."