The appearance of Messi helps Inter Miami Club gain millions of followers.
The successful recruitment of superstar Lionel Messi has brought a remarkable media effect to Inter Miami Club. According to The Athletic's statistics, Inter Miami is currently the most followed football club in the US on Instagram alone. Broadly speaking, Inter Miami has jumped to 5th place on the list of the most watched football teams in the US. The top 4 positions are all basketball clubs in the NBA.
On June 7, the time Inter Miami confirmed that Messi would be served, the club's Instagram account had about 900,000 followers. After 24 hours, this number increased to 4.5 million. At this time, the team owns 8.6 million followers.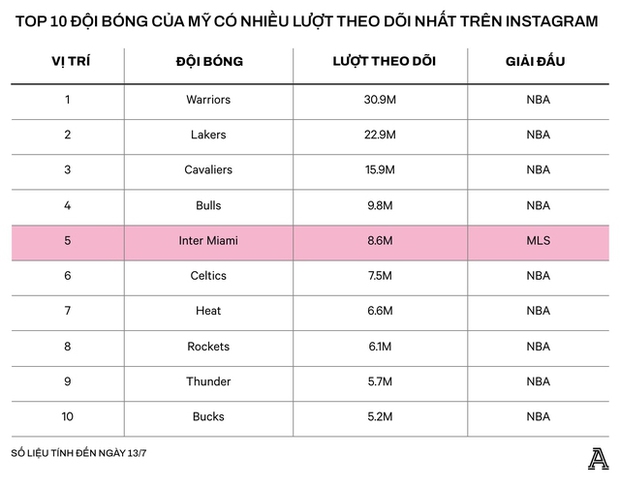 Top 10 American football teams with the most followers on Instagram. Source: The Athletic
The Athletic believes that Inter Miami has clearly felt the attraction of Messi even though the Argentinian player has yet to officially debut for the team. Experts say that with the status of a star, Messi will bring a leap forward for Inter Miami on and off the pitch.
"A few weeks ago, I woke up and found my phone had received about a million texts. I don't know what happened because usually not many people text me like that," David Beckham – co-owner Inter Miami Club – share about the signing of Lionel Messi.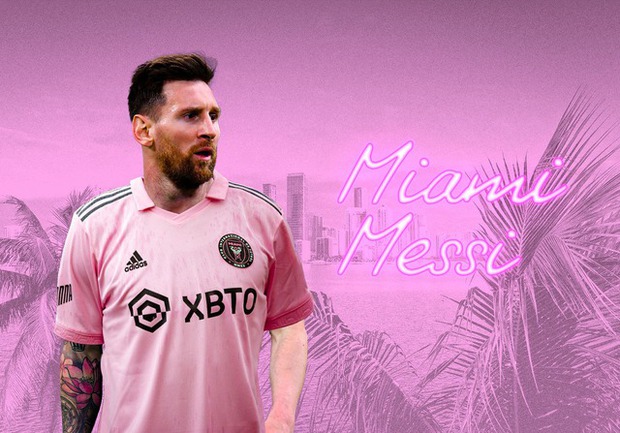 Messi can make his Inter Miami debut in the match on July 21
At this time, Messi and Inter Miami are negotiating the final terms before signing the official contract. It is expected that Messi will launch the new team in a ceremony held at DRV PNK on the evening of July 16 (local time). If favorable, Messi can play his first match for Inter Miami on July 21.
Messi is one of the greatest players in history when he has won a total of 43 titles and 7 Golden Balls so far. Messi's 35 titles come in the colors of Barca, where Messi has been with for more than 2 decades (including the youth team) before moving to PSG in the summer of 2021.
In 2 seasons playing for the French team, Messi also pocketed 2 Ligue 1 championships. Leaving when his contract with PSG expired, Messi decided to move to Inter Miami and refused an offer worth 500 million /. season comes from Al Hilal.