Liverpool were ʙᴇᴀᴛ en by Brighton for a second time in a matter of weeks, with Roberto De Zerbi's team following up their 3-0 league victory by eliminating the Reds from the FA Cup.
Jurgen Klopp suggested Andy Robertson's claim about Liverpool getting worse was neither true nor false after the FA Cup holders were eliminated from the competition.
Liverpool faced Brighton at the Amex Stadium, aiming to ʙᴇᴀᴛ the Seagulls for the first time in three attempts this season. Harvey Elliott put the away side in front, but goals from Lewis Dunk and Kaoru Mitoma sent the Seagulls through to the fifth round.
After the game, left-back Robertson was open about the team's recent decline. Klopp had the opportunity to rubbish the Scottish international's suggestion, and some may feel his choice of words was very telling.
"It's not 100 per cent true but it's not 100 per cent wrong," Klopp said. Liverpool's defeat was their fourth since the World Cup, with Manchester City eliminating them from the EFL Cup and Brentford and Brighton ʙᴇᴀᴛ ing them in the Premier League.
"Of course, we wanted a new start, that was clear after the World Cup. So far it hasn't happened properly, that's true.
"That means we have to keep working, there's nothing else you can do. There were good performances today as well, good moments which we need to build on."
Kaoru Mitoma scored Brighton's late winner against Liverpool
Robertson played the full 90 minutes in both of Liverpool's defeats to Brighton. This time, the Merseyside club were moments away from securing a draw and a replay, only for Mitoma to expertly take down a Pervis Estupinan cross and volley beyond Alisson.
"We need to start winning games," the left-back told ITV Sport. "It's easy to say , but harder to fix and it's proven that way. This season has been nowhere near good enough, at the turn of the year we wanted a new start. But it's not got off to that…it's probably been worse.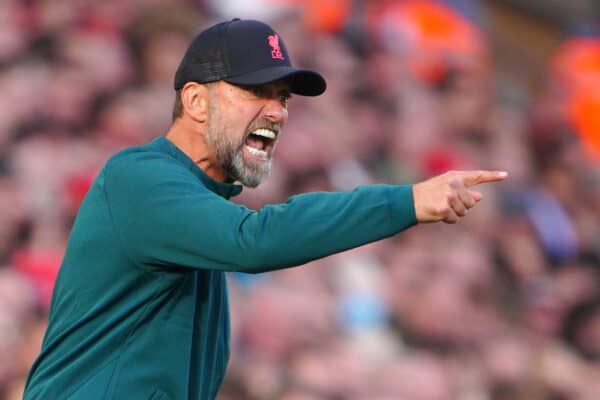 "In the league, we've not been good enough, we lost in the League Cup to Man City by one goal and now we're out of both cups. It's really disappointing. You can't put your finger on one thing because it's more than that and it's about putting a performance together where all these things click.
"You can tell we aren't as confident in front of goal and you can tell that defensively we are too open. We need to get the confidence back, but it's easier said than done. The only way we pick up results is you have to score goals and you have to be able to keep clean sheets and we're not managing that.
"We're not managing to do that and we need to do it quickly. But we keep say ing that and that doesn't help the fans. I feel sorry for them, we aren't putting a show on them at the moment."
Liverpool transfer news: Klopp is interested in two 'Henry's heirs'
Liverpool are interested in two French players, one from Barcelona for $54m and another from Galatasaray who Klopp admire
Jürgen Klopp perfectly summarized the game against Brighton. He stated that his team had made significant progress since their previous trip to the south coast, but that they still needed to improve.
"We came here to win and advance to the next round, with the game a couple of weeks ago in mind," Klopp said. That was probably the worst performance I've ever seen from my team." "So, that was a lot better today than it was yesterday.
"However, we still lost two goals from set pieces in the end. We tried closing the holes they got through the last time, but that doesn't help during set pieces, so we'll have to try something else. As a result, we weren't even close to avoiding the goals. That's how it is.
"We don't like it and don't think it's cool, but we must accept it. As I previously stated, the first half was very well set up. Cody [Gakpo] helped us a lot in the middle, both with and without the ball, and we can use Harvey [Elliott] on the left to help us defend."
According to Fanatik, Liverpool is interested in Galatasaray right-back Sacha Boey. Jürgen Klopp's team scouted him this season and liked what they saw, according to Fanatik. The 22-year-old is a good player, but the club already has Trent Alexander-Arnold and Calvin Ramsay, so bringing in another full-back would be strange.
Boey has been linked with a transfer to the Premier League, specifically to Liverpool. However, that position is not a top priority for the Reds right now because their next sporting director has a lot on his or her plate.
According to Calciomercato, Liverpool is interested in signing Barcelona's Ousmane Dembélé. The France forward's contract includes a $54 million (£44 million/€50 million) release clause.
Liverpool could use more attacking options now, but Dembélé recently signed a new contract with Barcelona and has been plagued by injuries.
After acquiring Cody Gakpo, most people would agree that a midfielder would be a much better choice if another transfer were to occur this month.