Erling Haaland has been in blistering form in his first season as Man City player and the striker's agent has admitted that tentative plans are already being put in place for his future.
The agent of Erling Haaland has admitted that Real Madrid is a "dreamland" for every player.
Super agent Rafaela Pimenta claims the Spanish giants still have a "magic" that players find difficult to resist despite the riches of the Premier League. Manchester City signed Haaland for £51m last summer ahead of Real Madrid but there is still a strong belief that the 33-goal striker's long term ambition is to play for the 14 time European champions.
Pimenta, talking at the FT Business of Football summit in London, said: "There is the Premier League. And there is Real Madrid. And Real Madrid has something of its own that makes it the Dreamland for the players. Madrid keeps this magic going. It doesn't have the league competition but it does have the Champions League."
Brazilian lawyer Pimenta, who succeeded as Haaland's lead agent after the death of Mino Raiola last year, said she maps out the careers of players and the Norway striker wanted to move to City but it is clear he may not be there for life.
She added: "In my agency we try to make a plan. We have to make a plan. We need to have a goal. Maybe we won't achieve it but if don't know where we're going for sure we don't get there.
"When we have a player, we make plans. Even if the player is 15 years old. We are planning out his career trajectory. When I started in this business, if I would say to a player 'I'll bring you to England' the first thing they would say would be 'what did I do wrong? Why don't you like me?'
Haaland's agent, Rafaela Pimenta, has previously predicted her client will become the first £1bn footballer 
"But now, if I ask a player 'what is your goal?' he will say the Premier League. He doesn't say City, Chelsea or Arsenal but the Premier League."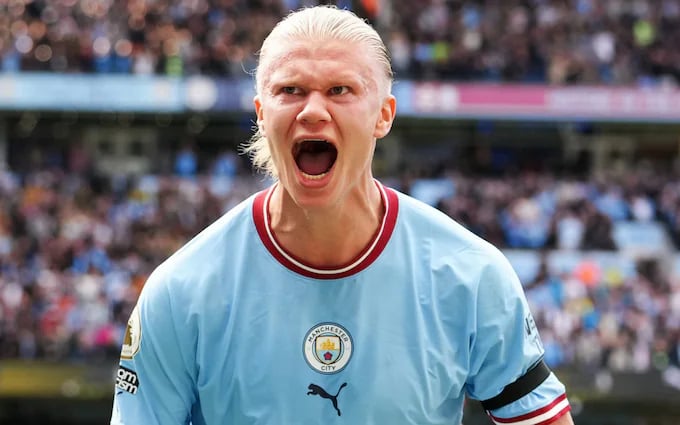 Pimenta's comments are the latest in a long line of claims regarding Haaland's long-term future with City. The striker's Dad, Alfe-Inge, has already claimed that his son will only stay at the Etihad Stadium for "for three or four years at the most".
City have previously denied there is any "Real Madrid clause" in Haaland's contract which is reported to include a £175m buy-out – but it excludes the Spanish giants.
Erling Haaland's Man City future has been in doubt ever practically since he arrived at the Etihad Stadium
Regardless, the Spanish champions do look the most likely to be interested in a move for the striker after seeing their move for Kylian Mbappe last summer collapse. Los Blancos were notably huge admirers of Haaland before his switch to the Etihad Stadium.
Pimenta admitted that she is in constant dialogue with clubs around the world in order to ensure her clients are given the best possible chance of securing transfers: "The day the market [transfer window] finishes is the day I start visiting clubs to talk about players, to see what may be in the future. We are in February, I have already been to rounds of clubs four times this year.
"There are so many different clubs, we can be studying, who's going to retire, who's getting old, who's injured, who's doing bad. Maybe this will happen there. It's like a chess game and you try to anticipate the next move."